Barcelona, España · 1981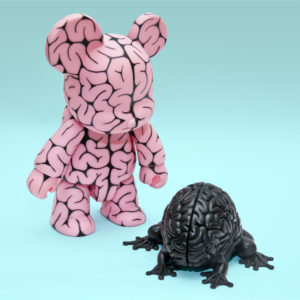 Emilio García tiene una larga trayectoria profesional como director de arte independiente y artista visual. Desde 1999 ha trabajado con compañías internacionales tan conocidas como Berlitz Kids, Hitachi, Diesel, Inditex, Metro, Vans o The North Face entre otras, especializadas en imágenes en movimiento y contenido multimedia. Su trabajo se ha publicado en Taschen, Favorite Websites y en la Web Design Index Books.
Emilio, preocupado por la digitalización de nuestra sociedad, vio cómo su cultura se alejaba lentamente de lo tangible. Como reacción a esto, dejó su carrera multimedia y abrazó lo táctil. Atraído por la fascinación del plástico, comenzó una nueva etapa con Secret Lapo Laboratories, un espacio para la experimentación plástica, donde puede dar cabida a su inquietud artística, lejos de bits, clics, bases de datos y guiones. De este deseo de hacer forma con sus propias manos, nació el virus de Jumping Brain. Como su primer proyecto independiente, el Jumping Brain se ha convertido en una sensación de la noche a la mañana.
Emilio Garcia was born in the winter of 1981 near Barcelona, Spain. He has a long career trajectory as freelance art director and visual artist. Since 1999 he has worked with such well-known international companies like Berlitz Kids, Hitachi, Diesel, Inditex, Metro, Vans or The North Face among others specializing in motion graphics and multimedia content. His work is published in Taschen Favourite Websites and Web Design Index Books.
Emilio, concerned with the digitalization of our society, saw his culture moving slowly away from the tangible. As reaction to this, he left his multimedia career and embraced the tactile. Drawn to the fascination of plastic, he started a new stage with the Secret Lapo Laboratories, a space for plastic experimentation, where he can give capacity to his artistic restlessness, far away from bits, clicks, databases and scripts. Out of this desire to make form with his own hands, the Jumping Brain viral was born. As his first independent project, the Jumping Brain has become an overnight sensation.