Jersey City (Nueva Jersey), Estados Unidos, 1974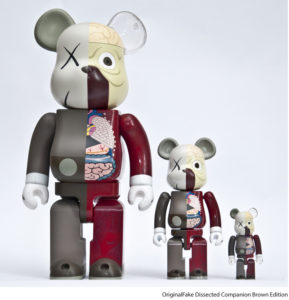 Brian Donnelly, conocido profesionalmente como KAWS, es un artista y diseñador de ediciones limitadas de juguetes y vestuario. Se graduó en la Escuela de Artes Visuales de Nueva York especializándose en ilustración en 1996. KAWS trabajó brevemente para The Walt Disney Company como animador independiente pintando fondos.
A finales de los años 90, KAWS comenzó a diseñar y producir ediciones limitadas de juguetes
hechos con vinilo. Más juguetes e indumentaria fue creada para Original Fake, una entonces emergente tienda en colaboración con Medicom Toy, en el distrito de Aoyama, Tokio, donde una edición limitada original de un producto es lanzada cada semana.
Las pinturas y esculturas de acrílico hechas por KAWS contienen muchas imágenes recurrentes, todas con el propósito de ser comprendidas universalmente, sin importar el idioma o la cultura.

Brian Donnelly, professionally known as KAWS, is an artist and designer of limited editions of toys and costumes. He graduated from the School of Visual Arts in New York specializing in illustration in 1996. KAWS briefly worked for The Walt Disney Company as an independent animator painting funds.
At the end of the 90s, KAWS began to design and produce limited editions of toys made with vinyl. More toys and clothing for the creation of Original Fake, a then emerging store in collaboration with Medicom Toy, in the Aoyama district, Tokyo, where a limited edition of a product launched every week.
Acrylic paintings and sculptures made by KAWS contain many recurring images, all with the purpose of being universally understood, regardless of language or culture.