Los Ángeles (California), Estados Unidos, 1960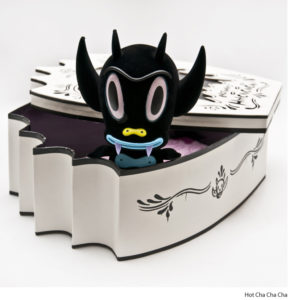 Vive en Los Ángeles, explora la «belleza agridulce de la vida» a través de la pintura, el performance, el cine y la moda. Los proyectos recientes incluyen una colaboración con COACH; un documental «Criaturas míticas» sobre su herencia familiar; y una retrospectiva itinerante que presentó cientos de sus pinturas, fotografías, videos y diseños de juguetes y vestuario.
La carrera multifacética de Baseman incluye ilustraciones para clientes como el New York Times, Rolling Stone y el Wall Street Journal y el superventas juego de mesa Cranium; así como la animación para la cual creó la serie ganadora de un Emmy y BAFTA ABC / Disney «Teacher's Pet«. Es un orador frecuente en conferencias internacionales sobre artes gráficas, multidisciplinares y comunicaciones visuales.
Los Angeles-based Gary Baseman explores the "beauty of the bittersweetness of life" through painting, performance, film and fashion. Recent projects include a collaboration with COACH; a documentary "Mythical Creatures" about his family heritage; and a traveling retrospective that featured hundreds of his paintings, photographs, videos, and toy and costume designs.
Baseman's multifaceted career includes illustration for clients including the New York Times, Rolling Stone, and the Wall Street Journal and the bestselling board game Cranium; as well as animation for which he created the Emmy and BAFTA award-winning ABC/Disney series "Teacher's Pet." He is a frequent speaker at international conferences on graphic and multidisciplinary arts and visual communications.