A Beginner's Guide To All Things BE@RBRICK
The Quintessential Collectible Toy

What does Pharrell, Grace Coddington and Ben Baller all have in common? An affinity for toy collecting. This may sound peculiar at first, but the toy in question is the BE@RBRICK – a little bear-shaped brick toy that's made its ways into studios, MTV cribs and galleries across the world. It wouldn't be too far of a stretch to say that these vinyl toys have become canvases for modern expression, playing a crucial role in the intersection of style, art and fashion.
BE@RBRICKs are a form of collectible toy that resemble a cross between LEGO and well, a bear. These block-style figurines boast teddy bear-style heads that have become an integral pillar of the collectible toy scene. In fact, it wouldn't be so far-fetched to say that it almost single-handedly carved out the fad of toy collecting in modern times, treading the very fine line between toy and art. Since its inception, BE@RBRICKs have become one of the most recognizable characters in the world, and some of the most sought after.
While regular toy figurines are normally reserved for kids, these bear-like objects have spoken to a more sophisticated crowd. Having been known to sell for hundreds of thousands of dollars on resell markets (the most expensive one sold for close to $200,000 USD), BE@RBRICKs are anything but juvenile. With anything is a collector's item, there's a bit of a learning curve getting in.
Let us teach you the basics.
The Beginnings
BE@RBRICKS are designed and produced by Japan's MediCom Toy, a company that is best known for its plastic figurines. The company was founded in 1996 to make limited edition figures and licensed products. It has long created plastic figurines of popular culture.
The BE@RBRICK'S design and concept was loosely based on another line of MediCom Toy's — the Kubrick, which pay homage to famed director Stanley Kubrick. The line of Kubricks are also represented by a logo that uses the same font as A Clockwork Orange's official poster, while the name also coincidentally includes the Japanese word for nine — "ku." Both Kubricks and BE@RBRICKS are comprised of nine parts — a head, torso, hips, arms, hands, and legs with joints that can move. While the Kubrick toys bear resemblance to a human form, the BE@RBRICK, as mentioned, is an anthropomorphized bear.
Most BE@RBRICKS are comprised of hard plastic, but over time, different series have introduced different materials into the mix, including metal and wood. Regardless, the most common form of BE@RBRICKS are made of plastic, however, MediCom Toy has experimented with different plastics over time.
The first BE@RBRICK was released May 27 2001 and given out as a free gift to attendees of the World Character Convention in Tokyo, Japan. This iteration was a simple white bear featuring the BE@RBRICK logo — a blue bear shape with a red "@" enclosed within. Measuring in at 70 mm, this marked the standard BE@RBRICK size — the 100%.
Sizing Specifications
With the first BE@RBRICK dubbed the 100%, all following sizes also follow the same system. Generally, BE@RBRICKS range between 50% to 1000%. Aside from these standard sizes, there have been some collections that featured BE@RBRICKS of different shapes and sizes — these fall under the "OTHER" category.
50%, 35 mm – These BE@RBRICKS are normally released in the form of keychains.
70%, 50 mm – First introduced in 2006, the 70% BE@RBRICKS were originally collectible items alongside other products. Since then, many have adopted this format as a form of lucky charm. In response to this, MediCom toy has produced 70% BE@RBRICKS adorned with auspicious and customizable tags.
100%, 70 mm – The most classic and common format. All BE@RBRICK series are released in this size and are available in blind boxes.
200%, 145 mm – A relatively newer format and are only released in the "Chogokin" Series. These are all constructed of die-cast metal and weigh in at 400 g.
400%, 280 mm – The second most common format, most collectors buy BE@RBRICKS in 400% form.
1000%, 700 mm – The largest regular BE@RBRICK size, the 1000% is normally reserved as collectible statue pieces.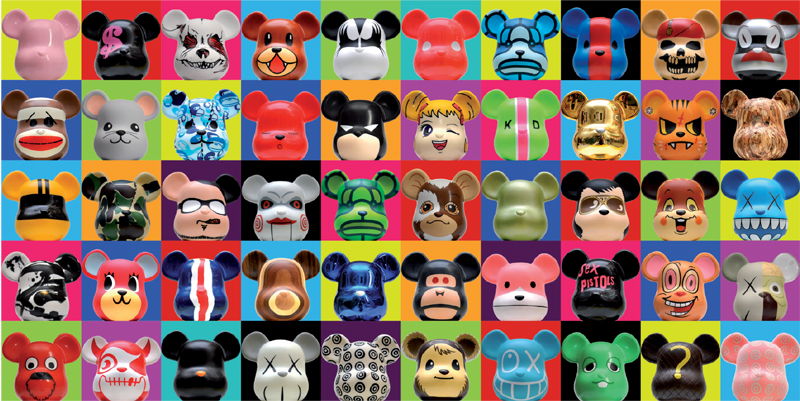 Releases
All BE@RBRICKS releases can be categorized into "SERIES" and "TYPES." There are two drops a year, and each BE@RBRICK "SERIES" are released in the summer or the winter. Each SERIES are consecutively numbered and consist of four different TYPES. As of press time, the latest is SERIES 31.
Basic — Nine different designs with each figure bearing a letter that all come together and spell "BE@RBRICK"
Standard — All BE@RBRICKS in this series consist of th different recurring "THEMES" (see below).
Artist — Normally consists of designs created in collaboration with an artist.
Secret — Unannounced designs that are usually rarer, may also consist of collaborative designs. They may belong to any of the below Themes
Within the "Standard" Series are different "THEMES." The most common themes include the following
Jellybean — a solid-colored figure constructed of translucent plastic.
Pattern — a figure boasting a pattern.
Flag — a figure boasting a nation's flag
Horror — a figure that is made to resemble a character or theme in the horror genre.
SF (Science Fiction) — a figure based on a science fiction theme, usually a film.
Cute — a figure bearing resemblance to something "cute."
Animal — a figure bearing resemblance to another animal.
Hero — a newer THEME which was introduced in SERIES 21, and consists of superheroes from DC Comics.
All BE@RBRICKS are limited edition and rarely re-released. All of the aforementioned SERIES are purchasable in blind boxes — each box usually contains one figure. All boxes are available in a case, and each case consists of 24 blind boxes. All contents of boxes are random, and it is impossible to discern what is inside a blind box without opening the package. Hence, it is extremely difficult to collect a whole set.Aside from the schedule SERIES releases that come in the summer and winter, there are general releases that fall throughout the year. These drops are usually individual designs or sometimes in a collection of two or three. These designs vary — they can be tied to a certain season or holiday, commemorating a theme or event, but they are largely collaborative designs.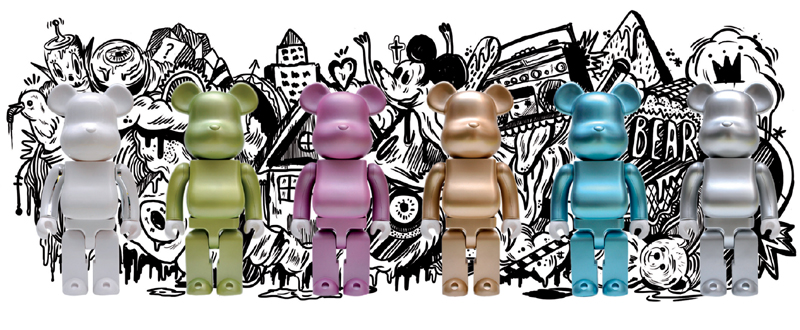 Rarity
Each BE@RBRICK SERIES and THEME has its own level of rarity, with the most common being the Basic themed figures. Each blind box states the rarity of the themes, all of which is listed below.
Basic BE@RBRICKS — 14.58 percent
Standard BE@RBRICKS
Jellybean — 11.45 percent
Pattern — 11.45 percent
Flag — 9.37 percent
Horror, 9.37 percent
SF — 10.41 percent
Cute –13.54 percent
Animal — 8.33 percent
Hero — 7.29 percent
Artist BE@RBRICKS — 4.16 percent or 1.04 percent
Secret BE@RBRICKS — 0.52 percent (1/192)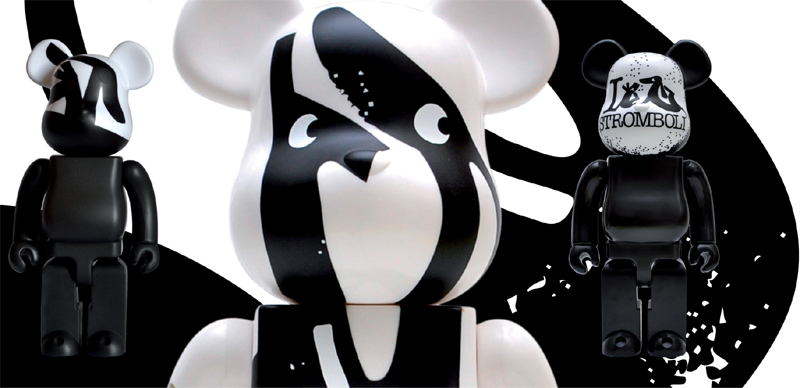 In addition to these numbers are even rarer releases. The most difficult BE@RBRICKS to collect are those that were never intended for public purchase — such as giveaways, promotional items and one-of-a-kind figures.
Because BE@RBRICKS are so limited in nature and difficult to collect, there is a lot hype around different releases. While the more common collectibles are not hard to obtain, the rarer figures are often resold for multiples of its original price. Some of the rarest BE@RBRICKS include collaborations with KAWS, Chanel, Andy Warhol and many more. KAWS even went on to collaborate with Medicom Toy on OriginalFake, an offshoot brand that unfortunately shuttered in 2013.
BE@RBRICKS have done almost the impossible, positioning itself in the intersection of art, fashion, culture, and fun. Its simple and familiar design has won over everyone regardless of gender or age. MediCom Toy has opened up the floodgates for collectibles, and pioneered for toys a way to market and sell products with hype. While its limited edition method ensures long-lasting interest, it's the various collaborations that BE@RBRICKS partake in that truly make these forms of art.
Its collaborative efforts also allows artists, musicians, companies and more to offer their own fanbases a token that they can purchase or vie for. Not only does this help increase the visibility of these brands, but they also disseminate BE@RBRICKS across varied interest groups and demographics — perpetuating its continued success.
BE@RBRICK's role in streetwear cannot be denied. With its limited edition and rare items, it has paved the way for other brands to introduce their own limited edition products and toys. Figurines have become an undeniable staple in streetwear circles, and it's surely not going anywhere.
Helena Yeung, Jan 16, 2016