Madrid, España · 1962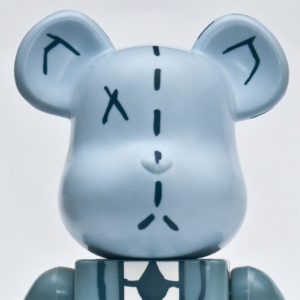 Kozik, un artista totalmente autodidacta, finalmente hizo la transición para producir carteles de conciertos de serigrafía de gran formato y múltiples colores, que tuvieron éxito internacional. Ha creado obras de arte para una amplia gama de músicos como Pearl Jam, The White Stripes, The Beastie Boys, Green Day, Neil Young y Nirvana. A mediados de los años noventa dirigió varios videos musicales, entre ellos Soundgarden's «Pretty Noose«.
En 1993, se mudó a San Francisco, California. Dos años más tarde, fundó su propio sello discográfico, Man's Ruin Records. La mayoría de sus carteles y carátulas del álbum durante esta época fueron serigrafiados a mano y numerados en su estudio. Durante este tiempo diseñó y lanzó más de 200 singles y LP´s, incluido un disco de Sex Pistols y el primer single de Queens of the Stone Age.
En 2001, Kozik cerró Man's Ruin para dedicarse a tiempo completo a las Bellas Artes, el diseño y el movimiento emergente de los juguetes de arte. Actualmente trabaja estrechamente con Kidrobot y muchas otras compañías de juguetes para producir sus juguetes, incluidas muchas versiones de su icónico personaje de Labbit. Hasta la fecha, ha diseñado más de 500 diferentes figuras de edición limitada. También crea ediciones de juguetes pintadas a mano y todavía diseña carteles.
Kozik también diseña productos y campañas de imagen para un gran espectro de las principales marcas de medios y estilo de vida, incluyendo un par de zapatillas NikeSB Dunk Quickstrike, un reloj Swatch de edición especial, el trofeo Spike TV Video Games Award 2007 y un anuncio para prensa de «Absolut Kozik«.
Además de sus clientes externos, en 2007 lanzó su propia marca, Ultraviolence. Bajo esta marca, Kozik produce objetos de arte de edición limitada en porcelana de vinilo, fibra de vidrio, bronce y porcelana de Limoges que a menudo son más complejos en contenido y de mayor escala que sus otros juguetes de vinilo. El trabajo de Kozik ha sido expuesto en más de 40 exposiciones colectivas y 35 exposiciones individuales en todo el mundo. Actualmente vive y trabaja en San Francisco con su esposa, Sharon, y sus cuatro gatos.
An entirely self-taught artist, Kozik eventually transitioned into producing large, colorful silkscreen concert posters, which found international success. He has created artwork for a wide range of musicians such as Pearl Jam, The White Stripes, The Beastie Boys, Green Day, Neil Young and Nirvana. In the mid-nineties he directed several music videos, including Soundgarden's "Pretty Noose".
In 1993, he moved to San Francisco, California. Two years later, he started his own record label, Man's Ruin Records. The majority of his posters and album art during this era were hand silkscreened and numbered at his studio. During this time he designed and released over 200 singles and full-length albums including a record by the Sex Pistols and the first Queens of the Stone Age single.
In 2001, Kozik closed Man's Ruin to devote himself full time to fine art, design and the newly emerging art toy movement. Presently he works closely with Kidrobot and many other boutique toy companies to produce his toys including many versions of his iconic Labbit character. To date he has designed over 500 different limited edition figures. He also creates hand painted toy editions and still designs posters.
Kozik also designs products and campaigns for a spectrum of major media and lifestyle brands including a pair of NikeSB Dunk Quickstrike sneakers, a special edition Swatch watch, the 2007 Spike TV Video Games Award trophy, and an "Absolut Kozik" print ad.
In addition to his outside clients, 2007 saw him launch his own brand, Ultraviolence. Under this imprint, Kozik produces limited edition art objects in vinyl, fiberglass, bronze and Limoges porcelain that are often more complex in content and larger in scale than his other vinyl toys. Kozik's work has been exhibited in over 40 group shows and 35 one-man gallery exhibits worldwide.
He currently lives and works in San Francisco with his wife, Sharon, and their four cats.